Now Available from Westbridge Publications





The 2015/16 auction season for Canadian art saw lots of positive activity in most sectors of the market. The overall seasonal sales total was up 47.9% over the previous year, and the WPL Composite Canadian Art Index set a new record high, closing up 75%. Led by strong prices from many of the country's leading artists, the average price per painting sold at auction also rose substantially as the market enjoyed one of its best performances of the past few years. As always, you'll find all the facts and figures for the season's activity in the all new 2017 edition of the Canadian Art Sales Index - our 37th year of publication! In this year's book – the 2017 edition - you'll discover:


Prices from $100 up for paintings, watercolours, prings, sculpture, and Canadian art books
Market performance! A complete overview of the Canadian art market as seen by the nation's leading market indicator, the WPL Composite Canadian Art Index
The top 100 Canadian Paintings sold at auction
Convenience and accessibility. The Index is a pocket-sized handbook you can take everywhere: to auctions, exhibitions and on buying trips


---

How to Order:
There are two ways to order the 2017 edition of the Canadian Art Sales Index:


1. Visit us on Amazon.ca for easy online ordering by CLICKING HERE (available now). Amazon list price includes GST.

2. Phone, fax, or email Westbridge Publications (our contact information is here) and we'll be happy to help you place an order direcly with us.


The 2017 edition is $54.95 CDN (GST and shipping not included).


---

Other titles available from Westbridge Publications:
Canadian Art Sales Index - first published in 1980, this annual guide to Canadian art prices at auction is now in its 37th year. Many back editions are available upon request - contact us for ordering information!


Made in Canada: An Investor's Guide to the Canadian Art Market - a special report that looks at the past, present and future of the Canadian art market based on the 25 year performance of the acclaimed WPL Canadian Art Indices.


How to Make Money Selling Art at Auction - subtitled Trade Secrets and Insider Advice from an Art Market Expert, this popular book tells you everything you ever wanted to know about the auction industry, and how to use it to sell your art effectively.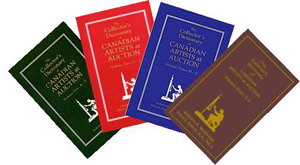 The Collectors Dictionary of Canadian Artists at Auction: 4 Volume Set
This four volume set contains comprehensive biographical listings on over 3000 Canadian artists and historical artists active in Canada during their career, from the 1700s to the present. $135 CAD - contact Westbridge Publications for ordering info!