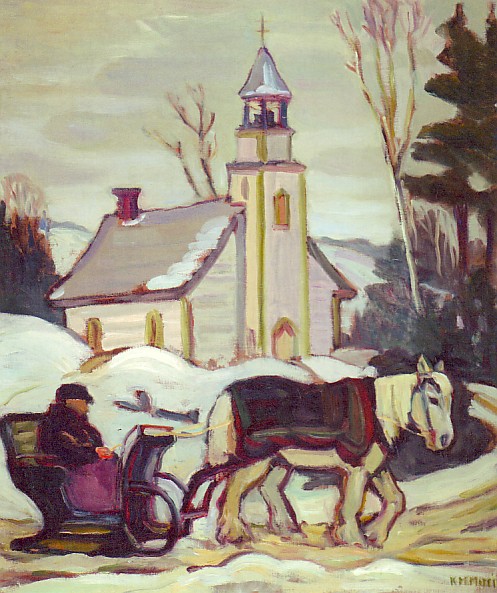 Perhaps, for Canadian art, the most remarkable and encouraging aspect of this past 2005-2006 auction season was not the vast number of high-ticket items that sold, but rather the strong increase in prices to be found at the second and third tier levels. Artists who previously lived in the shadow of the more recognized names or even in virtual obscurity from the majority of collectors suddenly found themselves jettisoned to celebrity status with a single unprecedented hammer price. Artists such as H. Mabel May ($300,000), Alex Colville ($575,000), George Agnew Reid ($160,000), Ronald Bloore ($46,000), William Henry Clapp ($55,000), Nora Frances Collyer ($80,000) and Kathleen Moir Morris ($260,000 - illustrated right Study in White, Winter, Berthier which sold at Heffels in May, 2006). As a result of the strong performance at the 'lower' end of the market, the average price of a painting sold at auction jumped substantially, settling at $9996, up 30% over the previous year. Also of note is the new entry price level for the WPL Top 100 Individual Artists' Records. It climbed $5000 or almost 17% to a current price of $35,000.
Despite this marked increase in the average price per painting, and the dramatic rise in many of the mid-tier paintings, the Canadian art market still remains an affordable proposition for the average collector looking for a fine painting at a fair price. According to figures in the latest 2007 edition of the Canadian Art Sales Index, no less than 4207 paintings sold for $5000 or less. That's 80% of the market! 3446 or 65.6% sold for less than $2000, 49.6% fetched less than $1000, and almost 32% of the paintings sold this past year fetched less than $500! If you check out these pieces in this year's book you'll find some notable names and some wonderful works at very attractive entry level prices.
Certain movements did especially well. The Painters Eleven, who have been flexing their market muscles these past couple of years, continued their upward progress with artists such as Jack Bush, Harold Town and Kazuo Nakamura particularly strong. William Ronald would have been feted this year had his painting of The Judge, which sold in New York in September 2006 for a record $25,000 US, been part of the current year's sales. However, this one waits to be savoured among next year's tasty morsels. The figurative painters from the Beaver Hall Hill Group also turned in some impressive numbers, as did many of Canada's women artists who are fast becoming a major force in the Canadian marketplace. Carr, of course, continues to shine, but now we have Mabel May, Kathleen Moir Morris, Nora Frances Collyer and Dorothy Knowles also posting impressive figures.
Also impressive was the number of new inductees into the exclusive WPL $100,000 Club. No less than 97 – that's right, ninety-seven! – paintings sold for $100,000 or more, an increase of 29, or 42.6% over the previous record year. Jean-Paul Riopelle was the most prolific with 19, then Lawren Harris at 13. Other artists with works in this exclusive group were Emily Carr (7), Jean-Paul Lemieux (5), Maurice Cullen (5), Cornelius Krieghoff (5), Franklin Carmichael (4), J.E.H. MacDonald (4), Paul-Emile Borduas (4), Tom Thomson (4), E.J. Hughes (4), David Milne (3), Marc-Aurele Fortin (3), Kathleen Moir Morris (3), Frederick Varley (2), James Wilson Morrice (2), Helen McNicoll (2), A.J. Casson (1), Robert Pilot (1), H. Mabel May (1), Alex Colville (1), Bill Reid (1), George Agnew Reid (1), Paul Peel (1), and Marc-Aurele de Foy Suzor-Cote (1). (Illustrated above right is J.E.H. MacDonald's Lake O'Hara and Cathedral Mountain, Rockies, a 34" x 45" canvas from 1928 that set a new artist's record when it sold at Heffels in November, 2005 for $850,000 (plus premium).
With so many exceptional prices and amazing records you would expect the WPL Composite Canadian Art Index to have done well and it didn't disappoint. It was up 128 basis points, or 16.42% to close at 907.75 points. Of the 17 individual WPL Canadian Art Indices 12 were gainers and 5 losers. The biggest winners were the Canadian Native Art Index, up 377.8% thanks to a Bill Reid sculpture, and the Early Canadian Watercolours Index up 198%. Other big gainers include the Historical Index (176%) and Sculpture (155%). The biggest loser was the West Coast Index down 34.4% followed by the Quebec Blue-Chip Index down (33.7%).
Watch for a complete analysis of all 17 WPL Canadian Art Indices in a special report to be published later this year!