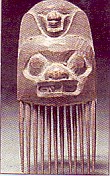 Reminiscent of some of the celebrity auctions held in the US when items of seemingly insignificant value soar to extreme heights, this Tsimshian wooden comb from the Dundas collection, a seemingly insignificant item amongst all the masks and clubs, and estimated of $10/15,000, sold for an amazing $204,000.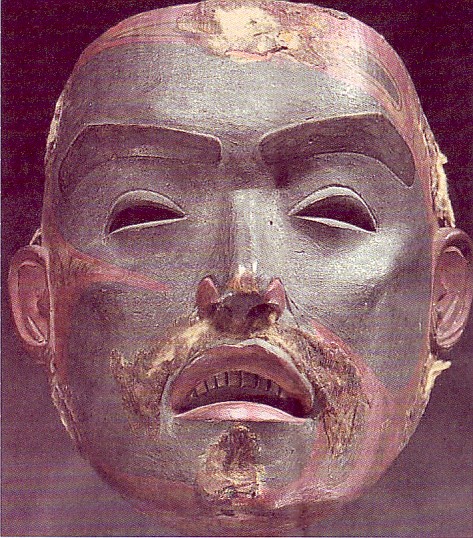 After a great deal of nail biting, and considerable determination, a virtually priceless collection of northwest coast native artifacts was repatriated to Canada through the generosity and foresight of the Thomson family. More than two dozen items, among them a magnificent Tsimshian polychromed wood face mask (illustrated right), and a rare and important war club, were part of a private collection of native artifacts offered at Sotheby's, New York in October. The items, referred to by a group of Tsimshian tribal elders as being "as significant to Canadian heritage as the Group of Seven", were taken from Metlakatla, a Tsimshian First Nation settlement near Prince Rupert, British Columbia, in 1863 by Scottish clergyman Rev. Robert Dundas, and were sent to auction by the missionary's great-grandson, Simon Carey.
For months after the sale of the collection was announced, Canadian museums and collectors were scrambling to find the funds to purchase it. In the end, however, as has happened so often in the past, it was the generosity of one family that saved the day. David Thomson, son of the late media magnate Kenneth Thomson, stepped up to the plate and paid $5 million US for the two dozen items. The most prized of all the artifacts was the polychromed mask which set a new record for an individual piece of native North American art when it sold for $1.8 million. A slave killer club of carved elk antler adorned with totemic forms sold for $940,000 and a clan hat fetched $660,000. A Tsimshian circular wooden bowl sold for $273,600, and a polychromed wooden headdress, possibly Tlinglit, was bought for $251,200, while a Tsimshian wooden comb estimated at $10/15,000 sold for $204,000.
In total there were 80 items in the collection, producing an overall sales figure of more than $7 million which is a new record for a sale of this kind.