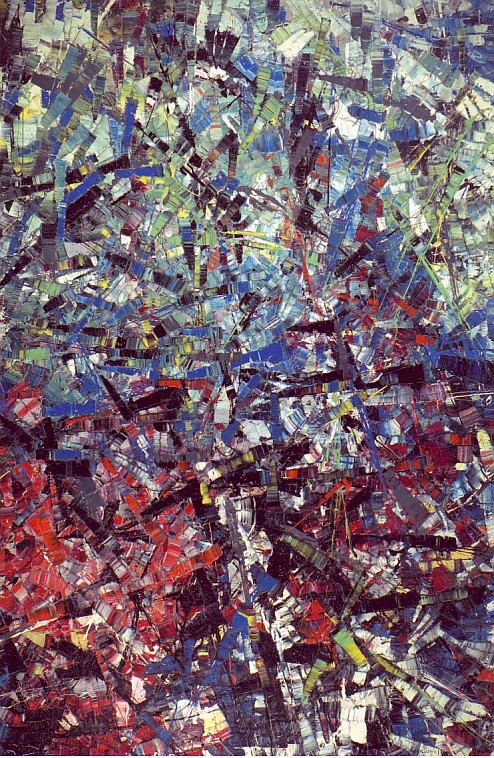 There appears to be no let up in the market's love affair with, and enthusiasm for, quality Canadian paintings as results from this season's fall series of sales clearly indicate. With most of the salerooms reporting in we are looking at an impressive $25 - $26 million in total sales which puts us well on track to break the current annual sales record set last year at $50,776, 532. It would also make it the 11th consecutive year that annual sales figures have grown.
Once again the three major salerooms went head-to-head with strong sales, and once again Heffel came out on top, posting the second highest single session sales total in Canadian market history at $11.8million. Sotheby's/Ritchies kept their second place ranking with an impressive $7.4 session and Joyner turned in an above estimate sale of $4.2million.
Despite such a strong season the only painting to top the million dollar mark was Jean-Paul Riopelle's Il etait une fois une ville (illustrated right) a 76.5" x 51" canvas from 1954 that fetched $1,667,500 at Heffels, a new record for a work by the artist sold in Canada. Just missing the million but nevertheless setting a new record for the artist was Tom Thomson's magnificent Burnt Area with Ragged Rocks, an 8.5" x 10.5" sketch estimated at $150/250,000. It sold at Sotheby's/Ritchies for $934,000.
In total there were 48 works that sold for more than $100,000 this fall and the buy-in percentage overall was very modest, possibly no more than 20%. The average price per painting sold at the top three salerooms was an outstanding $25,215, this compared to the overall market average last year of $9996. However, if we count Joyner's first session only the figure climbs to a very impressive $32,582. Clearly you need deep pockets to buy at this level.
By the same token, you don't need such deep pockets to participate in the rest of the marketplace. According to figures published in the most recent 2007 edition of the Canadian Art Sales Index 80% of the Canadian market still sells for less than $5000 and 65.6% sells under $2000. It wasn't too long ago that many of today's new 'stars' were floundering at this lower end, waiting for market recognition. The same is still true as the Canadian market remains a very rich source for undervalued quality paintings.
Although the top end of the market continued its spectacular performance, with our blue-chip artists posting figures that look more like house prices than art sales, the real excitement of the market, and the greatest area of appreciation, lies in that solid, quality mid-tier group of artists whose work has been on the cusp of achieving great things for many years and now appears to be doing just that. Artists like Marion Long, Sybil Andrews, John Little, Ethel Seath, Marcelle Ferron, Nicholas de Grandmaison, Kathleen Daly Pepper and others are all finally producing results worthy of their work and their importance to the Canadian art market.
Collectors of abstract and modern works will also be pleased with the strength of this sector of the market after several seasons of fluctuating fortunes. Lead of course by the duo of Riopelle and Borduas, this market is beginning to flourish as specific schools, such as the Painters Eleven and the Automatistes flex their market muscles, while individual artists from coast to coast are gathering market momentum. The last time we saw such activity in this contemporary sector was in 1989/90, just before the market "crashed". However, it is unlikely that we'll be facing the same fate anytime soon as buyers today throughout the entire marketplace appear far more informed, and purchases are being made out of earnings rather than borrowings.