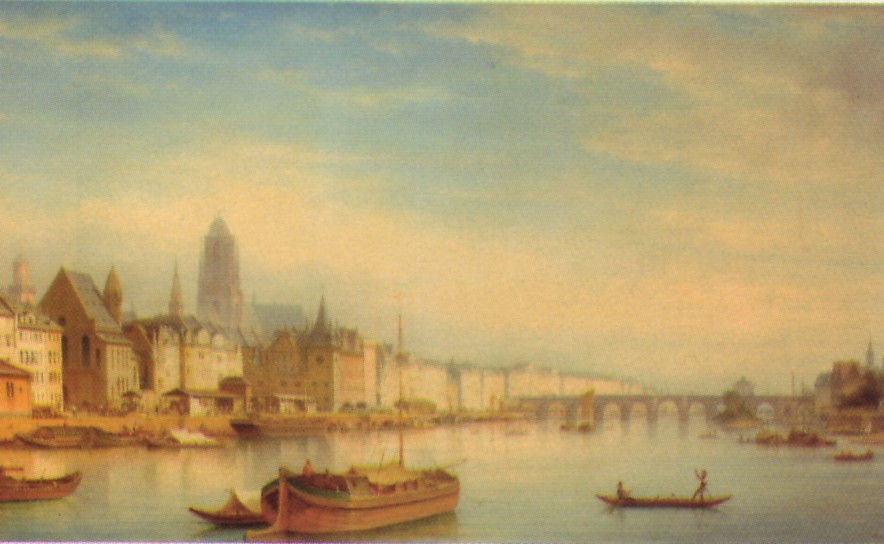 Ottawa (15BP) – A strong session of Canadian and International paintings at Walker's Auction November 30 found its star among the European pictures, despite a generally strong showing throughout for Canadian works. Topping the sale with a bid of $97,750 was 19th century German artist Carl Morganstern's Frankfurt on the Main, a 27.5" x 45.5" canvas from 1866 (illustrated right). This extensive city view carried a pre-sale estimate of $30/50,000.
Also doing well among the international works was Dutch painter Johan Scherrewitz's Figures & Beached Boats, a 22" x 18" canvas that sold on its high estimate at $29,900, while a carved white onyx sculpture of a Seated Woman by 20th century Mexican artist Armando Amaya sold just above its high estimate with a bid of $8625. The same price was realized for A Winter Wedding by Bulgarian artist Pjotr Stojanow. The 19.75" x 32" canvas was estimated at $6/8000.
Top lot in the larger session of Canadian art was reserved for an oil on panel by saleroom favourite Franklin Brownell. Drawing Ice, Governor's Bay, painted in 1926 and measuring 14" x 20" sold for an impressive $51,750 against expectations of $15/25,000. Brownell's pastel on canvas, 9" x 13" of Fishing Boats, Perce sold just below its estimate with a bid of $9200.
A small Albert Robinson sketch of Cacouna in Winter fetched $16,000, while F.S. Coburn's Hauling Logs, Melbourne, Quebec, a 15.25" x 18.25" canvas from 1928 found a buyer at $14,000. The ever popular – and extremely prolific – Maud Lewis (1903-1970) was represented by two works in the sale, both of which did well. Autumn by the Inlet, 12" x 13.75" fetched $6000 against a $35/4500 estimate, as did Horse & Cart, 12" x 14".
Henri Masson's Chopping Ice, Hill, 12.5" x 16" painted circa 1948 did well when it sold for $6325 against a $25/3500 estimate. Selling just over its estimate at $6612.50 was Goodridge Roberts' River in Spring, a 20" x 24" oil on board. Another work by Roberts, this time The Yellow Tree, 16" x 20" fetched a mid-estimate $4600.
Picking up a similar price against a $2/2500 estimate was F.M. Bell-Smith's Lake Louise, a 7" x 8.5" oil on board, while Carl Schaefer's York Mills Woods, a 9.75" x 8.5" oil on board from 1923 sold for $4887.50, well above its $3/3500 estimate.
A small session of contemporary works also performed well. Marcelle Ferron's Abstract Composition, a 10.5" x 9" oil on paper from 1963 fetched $2300 against an $8/1200 estimate, while another abstract, this time a mixed media, 19" x 25" from 1964 fetched $4887.50. Harold Town's Blast Off! a 7.5" x 9.5" mixed media on board from 1957 really did take off when it sold for $3737.50 well above its $7/900 estimate. Also doing well was Toni Onley's Ethereal Landscape, an 18" x 24" oil on panel from 1967 that found a buyer at $2760, almost double its high estimate.