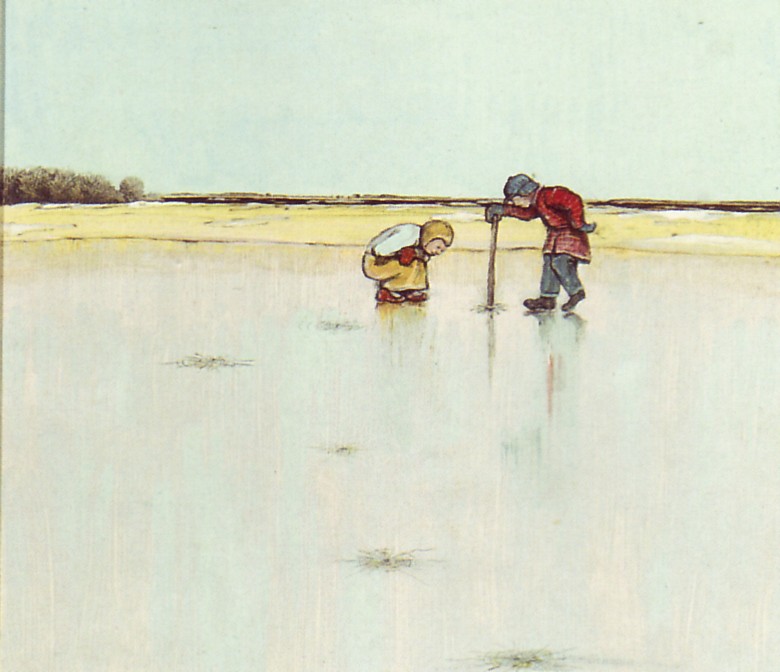 Calgary (15BP) – In keeping with results throughout the Canadian art market this past fall season, the sale of Canadian paintings, and a special session of vintage photography at Levis Auctions, November 20, provided some excellent prices and a strong overall sales total. Eighty percent of the lots in the main fine art sessions found buyers with prices, on average within, or above estimate. Highlighting the sale with a bid of $34,500 was William Kurelek's Children Studying Prismatic Effects in Ice Cracks, an 11.25" x 12.5" oil on board estimated at $12/15,000 (illustrated right).
Finding a buyer at $32,200 was Ernest Lindner's watercolour of a tree stump. The 21" x 29.5" work, painted in 1975 was estimated at $15/20,000. Another watercolour of hands, 29.5" x 21" from 1973 fetched a below estimate $13,800.
An 8" x 10" oil on board by Lawren Harris depicting a row of rural cottages and entitled Morning crept into its $18/22,000 estimate with a bid of $18,400, while William McElcheran's bronze sculpture entitled Optimist fetched $11,500. A similar price was realised for Suzor-Cote's bronze sculpture L'Iroquois estimated at $10/12,000.
Staying with bronze sculptures, Joe Fafard's The Painter from 1986 picked up a bid of $24,150, well above its $12/15,000 estimate. A real surprise for the saleroom was the bid of $11,500 given for Arthur McKay's 48" x 48" Mandela, a mixed media on board from 1979 that carried an estimate of $15/2000.
Other prices of note include a bid of $8050 for H.G. Glyde's Elevators – South of Edmonton, an 18" x 24" oil on board from 1979 estimated at $45/6500, and $6037 for the artist's Pender Island, an 8" x 10" oil on board estimated at $1/1500. Janet Mitchell's Coming Through from the Country, a 21" x 28" watercolour did well with a bid of $6900, double its estimate, the same price realised for Vivian Thierfelder's Ouverture, a 29.5" x 41.5" watercolour from 1989.
A small session of vintage photographs was highlighted with a bid of $8050 for an album of over 70 photo postcards including many early images of Banff, Alberta, and $1955 for a Portrait of Deerfoot, Blackfoot, a Harry Pollard print from an Alexander Ross negative estimated at $300/400.