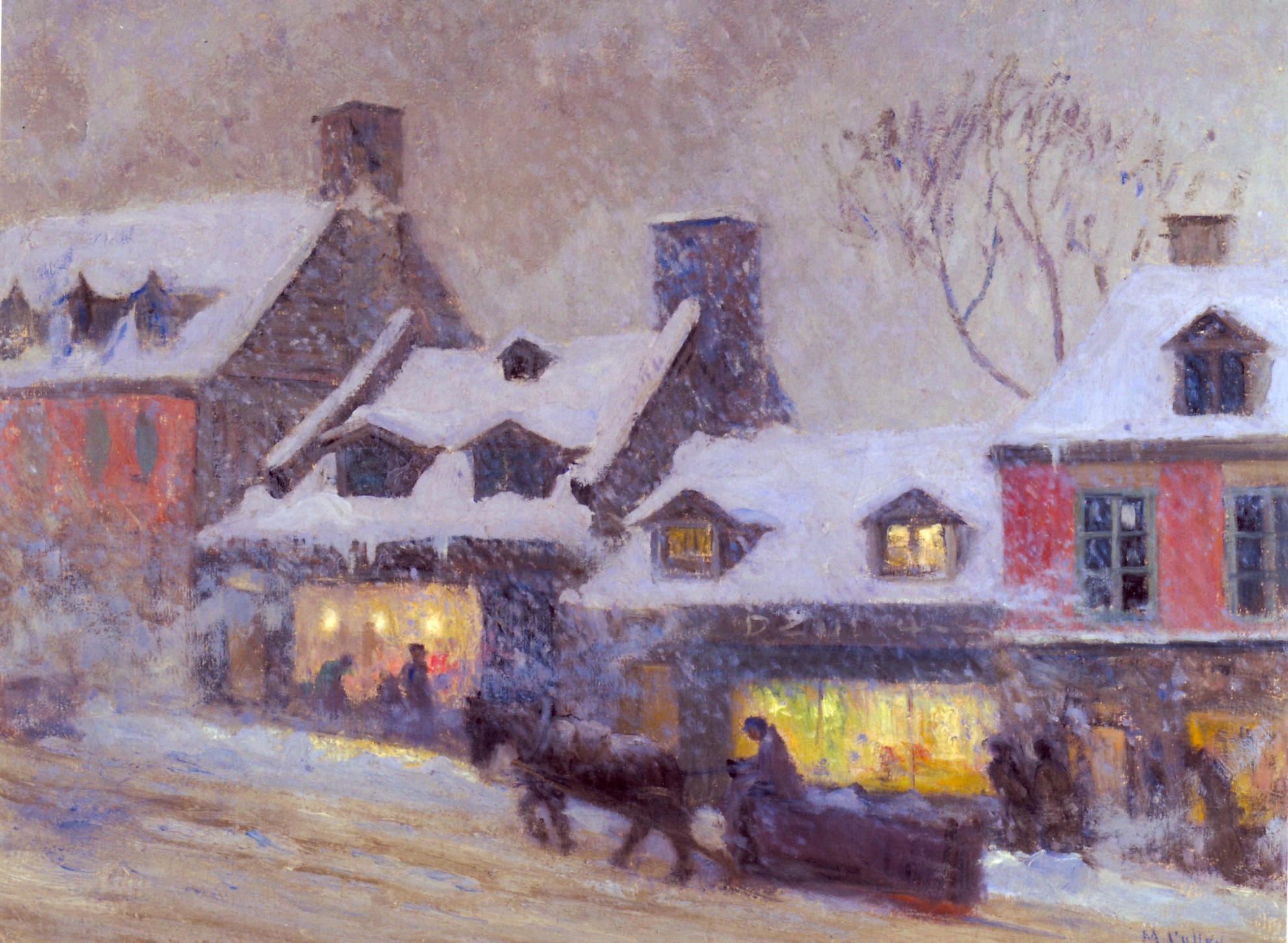 Toronto (15BP) – For the second time in a year the Heffel auction 'machine' produced a single sales total that just about matched the sales totals of the other two leading Canadian art salesrooms combined. In the spring of 2005 in Vancouver the company set all sorts of records when it racked up an amazing $8.4 million sale. On November 24 in Toronto, that sale was made to look somewhat ordinary by comparison to the $12,449,470 taken on this historic evening. Before we get to the specific paintings that rocked the market, let's first take a look at a few impressive market numbers.
There were 28 paintings in the sale that sold for more than $100,000 (including buyer's premium). Six of these went for more than $400,000 one went over the million dollar mark while another was just under. 89.3% of the 243 lots offered found buyers which meant a buy-in rate of less than 11%. The cheapest lot in the sale at $1150 must be viewed as an absolute bargain when one discovers that there were only 61 works, or 28% of those sold, that fetched less than $10,000, and even more significantly, only 26, or 12% that sold for less than $5000. With so few low end pieces it is not surprising to learn that the average price per painting sold on this night was an exceptional $57,370!
To grasp just how historic an occasion this really was, this single session of 217 paintings generated more dollars than the entire 1997-98 auction season as recorded in the 1999 edition of the Canadian Art Sales Index, and in that season the Index listed over 4500 works of art! Phew!
Now let's look at some of the pieces that took this market by storm. Clearly the most significant and exceptional – and recording the top price overall for the fall season of Canadian art - was Maurice Cullen's The Bird Shop, St. Lawrence Street, a 24" x 32" canvas (illustrated above right), circa 1920 that carried a pre-sale estimate of $250/300,000. If there's one thing in Canada that's a sure-fire winner it is an impressionistic, figurative winter scene. Throw in a horse and sled, a nighttime setting, and the warm glow of shop windows and you can virtually write your own cheque. And that's what happened. This truly delightful painting sold for $1,495,000! Needless to say it was a new auction record for the artist!
The painting that almost made the million was J.E.H. MacDonald's Lake O'Hara and Cathedral Mountain, Rockies, a 34" x 45" canvas from 1928 that carried an estimate of $400/600,000. When the hammer fell it cost the new owner $977,500.
Four more paintings topped the $400,000 mark. Lawren Harris's Houses Group XXXIII, a 10.75" x 10.75" panel, circa 1919, fetched a very strong $402,500 against a $150/200,000 estimate (I wonder how much this would have fetched if the buildings were grey or brown and not red?). The same price was realized for the artist's North from Mount Mumm, Mount Robson Park, a 12" x 15" panel from 1929 estimated at $200/250,000.
Tom Thomson's South Shore of Canoe Lake, Algonquin Park, an 8.75" x 10.5" oil on canvas laid on board found a buyer at $460,000, well above its $180/220,000 estimate, while Emily Carr, an artist that is never far from the Heffel limelight, had her Chatle, Q.C.I., a 38" x 13" oil on board from 1912 fetch a solid $431,250 against expectations of $175/225,000.
Clearly this sale was packed with exceptional prices, but not all the highlights came with a six figure price tag. For example, H.G. Glyde's Grain Elevators, Lethbridge, 14" x 17.5" fetched $11,500 against a $35/4500 estimate, and F.M. Bell-Smith's The Chancellor, a 17.5" x 24" watercolour from 1902 picked up a bid of $31,625 against a $9/12,000 estimate. A similar estimate was given to Dorothy Knowles 59" x 72" canvas entitled Fall that found a buyer at $40,250.
But one really can't ignore the top prices because they invariably produced results so far above expectation. Helen McNicoll's In the Fields, a 20" x 24" canvas estimated at $90/120,000 sold for $207,000 while the artist's colourful but somewhat ho-hum and figureless canvas Reaping Time, 25" x 30" fetched a remarkable $299,000 against a $150/200,000 estimate.
J.E.H. MacDonald's From Warren Road, a garden sketch from 1918 fetched $97,750, well over its $40/60,000 estimate, as was the artist's Parrot at Warren Road which sold for $103,500 against expectations of $40/60,000.
A Lawren Harris abstract entitled Three Planes of Being, 53.5" x 50" made mincemeat of its $40/60,000 estimate with a final price of $218,500, and Kathleen Moir Morris's Moving Snow, Berthierville, 18" x 24" doubled its mark with a bid of $149,500. Robert Pilot's colourful view of Gaspe Peninsula Landing, 18" x 24.5" was pre-destined to exceed its $16/20,000 estimate and it did with a bid of $63,250. J. W. Beatty's cozy winter sketch Winter Moonlight was another piece almost certain to exceed expectations and duly obliged. It sold for four-times mid estimate at $28,750.
Big on the market these days is the work of Maurice Cullen the recognized father of Canadian Impressionism. Riviere du Diable pres du Mont-Tremblant, a 24" x 32" canvas estimated perhaps a little too conservatively at $60/80,000 in light of recent prices proved the point when it found a buyer at $207,000. Franklin Carmichael's Wild Cherry Blossom, a 10" x 12" oil on board from 1938 was not conservatively estimated in my opinion at $100/150,000, although it always had the ability to do better. And it did, to the tune of $322,000!
A large Goodridge Roberts Still Life on a Green Tablecloth, 32" x 48" opened some eyes when it soared to an impressive $69,000 against a $20/25,000 estimate, a new record for the artist. Paul-Emile Borduas' Sans Titre, a 24" x 28.5" canvas from 1959 fetched $207,000 against a $70/90,000 estimate, while Patte de velours, 36" x 30" from 1955 excelled with a bid of $264,500, well above its $125/175,000 estimate.
Finally, after all we have to stop somewhere, Emily Carr's Forest Interior, a 36" x 24" oil on paper, circa 1935, did even better against a similar $125/175,000 estimate, finding a buyer at $299,000, while Carr's Sara, a 12" x 10" watercolour from 1908 provided an even higher percentage return when it sold for $92,000 against a $20/25,000 estimate.
With perhaps one exception since they began auctioneering, the Heffels have consistently improved on every sales total to date. An amazing and one would have to say almost unprecedented record. Can they continue the trend? Will it be $15 million in May? Or is it time for a reality check?
Stay tuned!