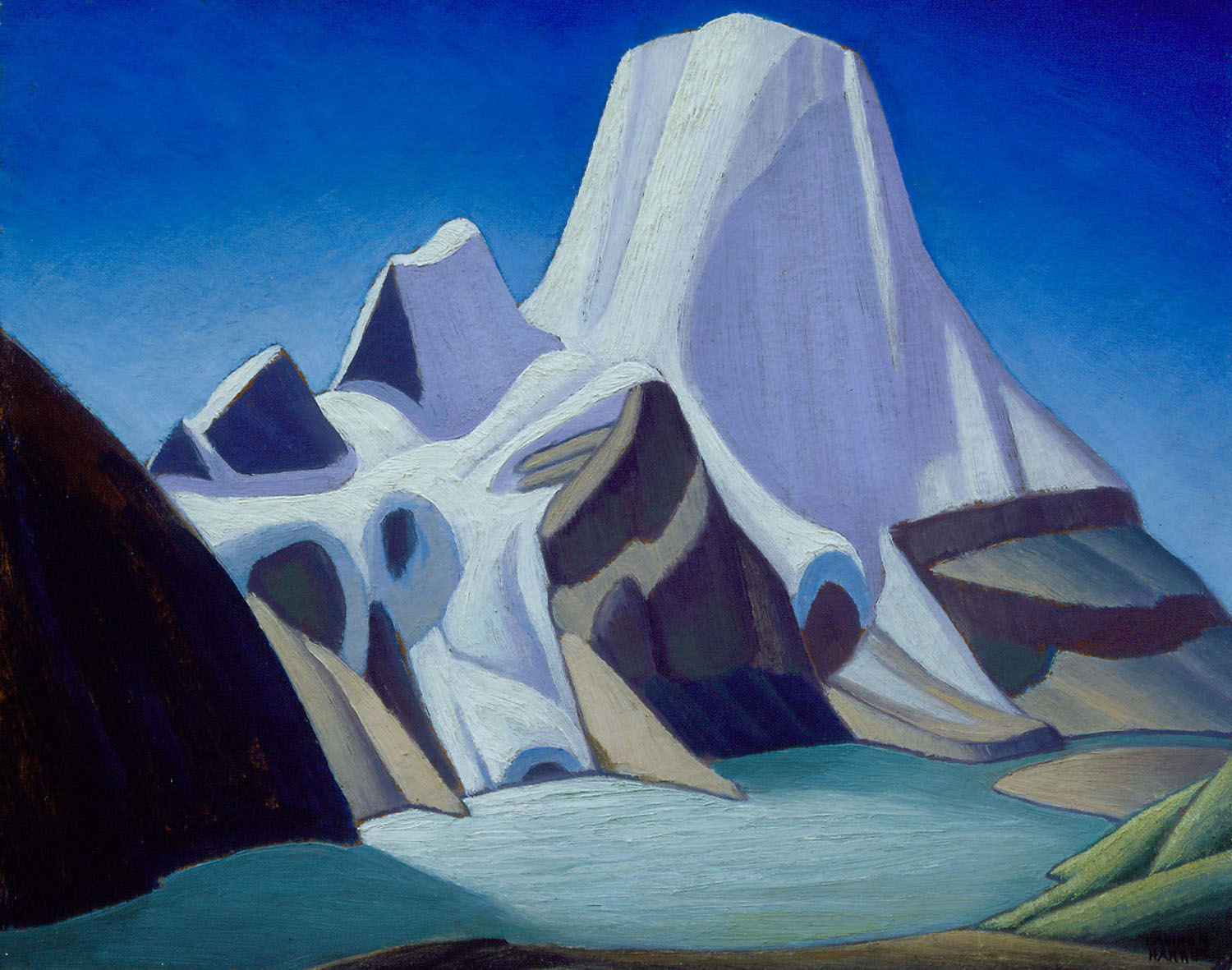 Toronto (15BP) – With two of the top three Canadian art salerooms having already wracked up close to $14 million in the middle part of May, all eyes turned to Joyner's two-session auction May 31 and June 1 to see if the market could maintain its amazing strength and momentum. When the gavel fell on the final lot, the $14 million had become almost $20 million and the market was showing no signs of weakening. The undisputed highlight of Joyner's close to $6 million sale was the astounding price paid for Mount Robson from the North East (illustrated right), a 12" x 15" sketch from Lawren Harris. Only a few days earlier in Vancouver a similar size sketch by Harris had sold for $250,000 plus premium, a new record for a sketch by the artist. Mount Robson very quickly shattered that record and rose to an unprecedented $500,000 ($567,500 with premium).And, to show it wasn't a fluke, a less inspiring but similar sized piece of Clyde Inlet, Baffin Island sold a few lots later for $388,300. Both pieces were estimated at $175/200,000.
Narrowly missing the honour as the sale's top lot, and also narrowly missing setting a new record for the artist was A.Y. Jackson's Northern Landscape, Lake Superior, a 32" x 40" canvas that carried a $250/300,000 estimate. It sold, with premium, for $533,900.
There were no near misses with Jean-Paul Lemieux' Reverberes, however. This 18" x 26" canvas from 1961 set a new record for the artist when it was knocked down for $270,000 ($309,900 with premium), well above its $100/125,000 estimate. A.J. Casson's October Morning, 30" x 36" which was illustrated on the cover of the catalogue and carried a $125/150,000 estimate also soared to a new record for the artist with a hammer price of $430,000 ($489,100 with premium).
Yet another new record was set, this time for a work by Jean Albert McEwen, when the artist's En Remontant les Jaunes, 60" x 72" from 1962 found a buyer at $95,000 ($109,250 with premium). A solid bid of $27,600 was paid to secure Rene Richard's La Vie du Trappeur, 24" x 26", estimated at $6/8000, while a gouache entitled No. 10 Ou Figure Athenienne painted in 1942 by Paul-Emile Borduas did much better than expected, finding a buyer at $126,500, more than double its low estimate.
As with the other major rooms, this sale was solid throughout with few
disappointments. Nicholas de Grandmaison's pastel Portrait of an Indian Brave, 17.5" x 12.5" sold for $25,300, double its $12/15,000 estimate, and Albert Robinson's Ste. Fidele, 11" x 13" from 1926 picked up a bid of $52,900 well above its $25/30,000 estimate. John Little's Rue Chenneville, 24" x 30" fetched $29,900 against a $12/15,000 estimate, the same price realized for Adrien Hebert's Bonsecour Market, 22" x 18", estimated at $15/18,000. A definite surprise for the saleroom was the $59,800 bid for a Goodridge Roberts oil on board of Port-au-Persil, estimated at $15/20,000.
Other prices of note in the first session include a bid of $27,600 for a small 5.5" x 8.5" panel of Autumn Trees by Lawren Harris which was estimated at $7/9000, and $34,500 for Rita Letendre's Valhalla, 25" x 19" estimated at $15/20,000. It needed a bid of $13,800 to buy William Raphael's Portrait of a Native Girl estimated at $4/6000, and $14,950 to secure Frederick Taylor's Central Montreal from the Lachine Canal, 13" x 16" estimated at $4/6000.
The main highlight of the second session was record price of $17,000 ($19,550 with premium) paid for Kazuo Nakamara's Toronto 4. The 24" x 31" canvas was estimated at $2/3000. Also worth mentioning was the $13,800 bid for Frederick Taylor's Looking Down des Jardins to Donnacona St., a 16" x 20" canvas estimated at $2/3000, the $13,800 paid for Isabel McLaughlin's Cobalt, Ontario, 16" x 13" estimated at $25/3500, and the $6325 bid for Jack Martin's Country Yard, a 19.5" x 24" oil on board from 1943 estimated at $7/900.