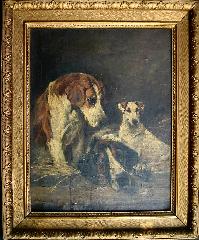 Victoria (15BP) – Which saleroom wouldn't want to get off to the start that awaited Lunds at their April 25 fine art and antiques auction? Lot 1 (illustrated right) was an oil on canvas, 20" x 16" catalogued as by "Jn Emms". The subject was Three Dogs Resting, and, with an estimate of $15/2500 one can only assume that the consignor would have been happy with around $1000. Clearly the market recognized the hand of John Emms (1843-1912) and duly took the bidding to $56,350. Happy consignor I am sure, happy saleroom for sure, and, we hope, happy buyer.

An oil on panel, 13" x 16" of a European Landscape, painted in 1876 by C.F. Daubigny lived up to its expectations with a bid of $6900 against a $4/6000 estimate, while a watercolour of a Cathedral and Street Scene, 22" x 15", by Herbert Marshall far exceeded its $3/5000 estimate when the hammer fell at $10,350.

The Armoury was the subject of an oil on panel, 21" x 25" painted in 1869 by J.C. Vaarberg that sold just over estimate at $5750, and Sheep Grazing at Sunset was the subject of a Eugene Verboeckhoven canvas, 14.5" x 20.5" that fetched $4600 against a $2/3000 estimate. Also doing well among the European works offered was Alfred East's 18" x 26" canvas Crossing the Fields which sold for a mid estimate $3450.
Among the Canadian paintings on offer, Herbert Siebner's 32" x 45" canvas Across the Rockies, estimated at $3/5000 soared to an impressive $8625, while the artist's Symbols of the Coast, 24" x 35" fetched $6037, well above its $3/5000 estimate.
An oil on canvas of The Study Window, 32" x 36" painted in 1972 by Joe Plaskett picked up a Low estimate bid of $4025, and an oil on board 15.5" x 24" signed 'Smith' of Cypress Creek, 1989 found a buyer at $3737, double its high estimate. An ink and watercolour drawing from 1946 of The Spit from Riggs Island by Jack Shadbolt sold for $6325, comfortably above its $15/2500 estimate, as did Keith Hiscock's 1991 acrylic on board, 24" x 48", entitled Side by Side when it sold for a similar price against a $2/3000 estimate.
A couple of paintings signed 'Varley' piqued the market's fancy. Autumn Coastal Scene, 11" x 14" found a willing buyer at $5462 (est. $1250/2250) and Sunlit Coastal Scene, 12.5" x 12" fetched $3565 against a similar estimate. The same estimate was given to Norwal, an 8.5" x 10.5" oil from 1929 signed 'A.J. Casson' that one keen buyer took home for $2990.