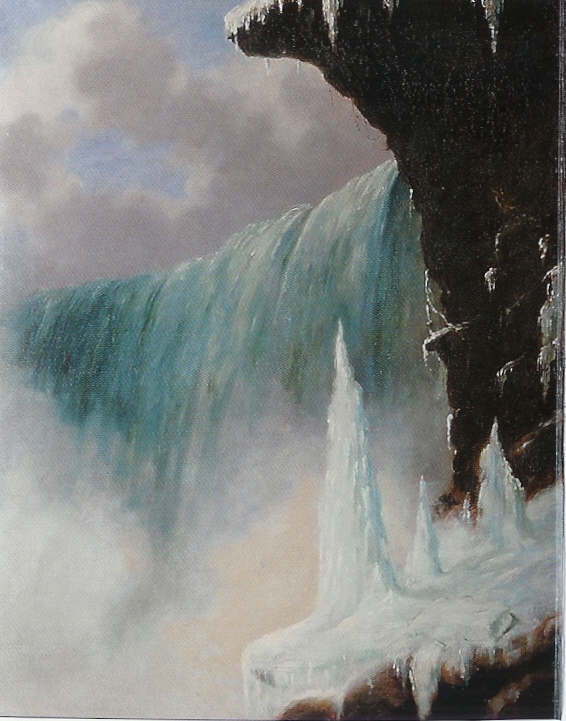 Calgary (15BP) – The first major sale of the spring 2005 auction season was held at Levis Art Auctions April 17, and, if the result of this sale is an indication of what's to come, then we can certainly expect a very strong spring showing across the country. Despite the disappointment of two of the top valued lots, the Levis sale, which saw 79% of the lots finding buyers, produced several excellent prices, not the least of which was the $27,025 paid for Niagara Falls in Winter a 25.25" x 20" canvas by Cornelius Krieghoff (illustrated right) that was estimated at $20/25,000.
The pastel portraiture of Nicholas de Grandmaison continues to garner strong saleroom prices like the $24,150 paid for the artist's Indian Child with Black and White Beaded Necklace. The 10.25" x 7.75" image was estimated at $7/9000. Grandmaison's Indian Child with Red Scarf, a 10" x 7.75" pastel, c.1949, and estimated at $7/9000 also comfortably exceeded expectations with a bid of $14,950 while Peigan Woman with Pipe, a 28" x 22" canvas fetched an upper estimate $8625.
Arthur Lismer's B.C. Forest an oil on board, 15.75" x 11.75", found a buyer at $11,500, just under its $12/15,000 estimate, and a Sybil Andrews linocut of Logging Team, 11.5" x 13.5" fetched a solid $7705, more than double its low estimate.
An unexpected, but perhaps not surprising $10,925 was bid for a 1940s oil on board entitled Moving Barrels by Robert Donald Bruce (1911-1981). The 24" x 31" oil on board carried a $25/3500 estimate.
The business sculpture of William Hodd McElcheran (1927-1999) sold well. On the Go, a 28.75" x 12.75" bronze from 1996 topped its high mark with a bid of $15,525, while Three Businessmen Walking, 9.5" x 9.5" found a buyer at $11,500 against an $8/10,000 estimate.
The watercolours of local artist Janet Mitchell (1912-1998) are always a popular saleroom target as was witnessed with All Are Actors, 14" x 20.5", from 1964 that sold for $6612.50 against a $2/2500 estimate. A Berthe des Clayes oil on board, 13" x 17" of Autumn Plowing, Val Morin, PQ, found a buyer at $5175, just under estimate, and a Kenneth Keith Forbes oil on board, 20" x 36" Coming Round the Bend from 1976 fetched a mid estimate $5750.
A small session of contemporary Canadian works was highlighted with a bid of $18,400 for an untitled oil on board, 23.5" x 30" by Lawren Harris that was estimated at $12/15,000.
A small session of international works found its star lot in a painting of Two Calves at Rest by Scottish artist David Gauld (1865-1936). Valued at $3/4000 the market took this piece to an impressive $11,500. Also of note was the $3795 paid for a 45.25" x 39" canvas of a Worker at Lunch by Belgian artist Oscar Verpoorten (1895-1948) that was estimated at $2/2500, and the $4025 paid for A Stitch in Time, a 16" x 12.25" oil on board by British artist Frank Moss Bennett (1874-1953) estimated at $3/4000.