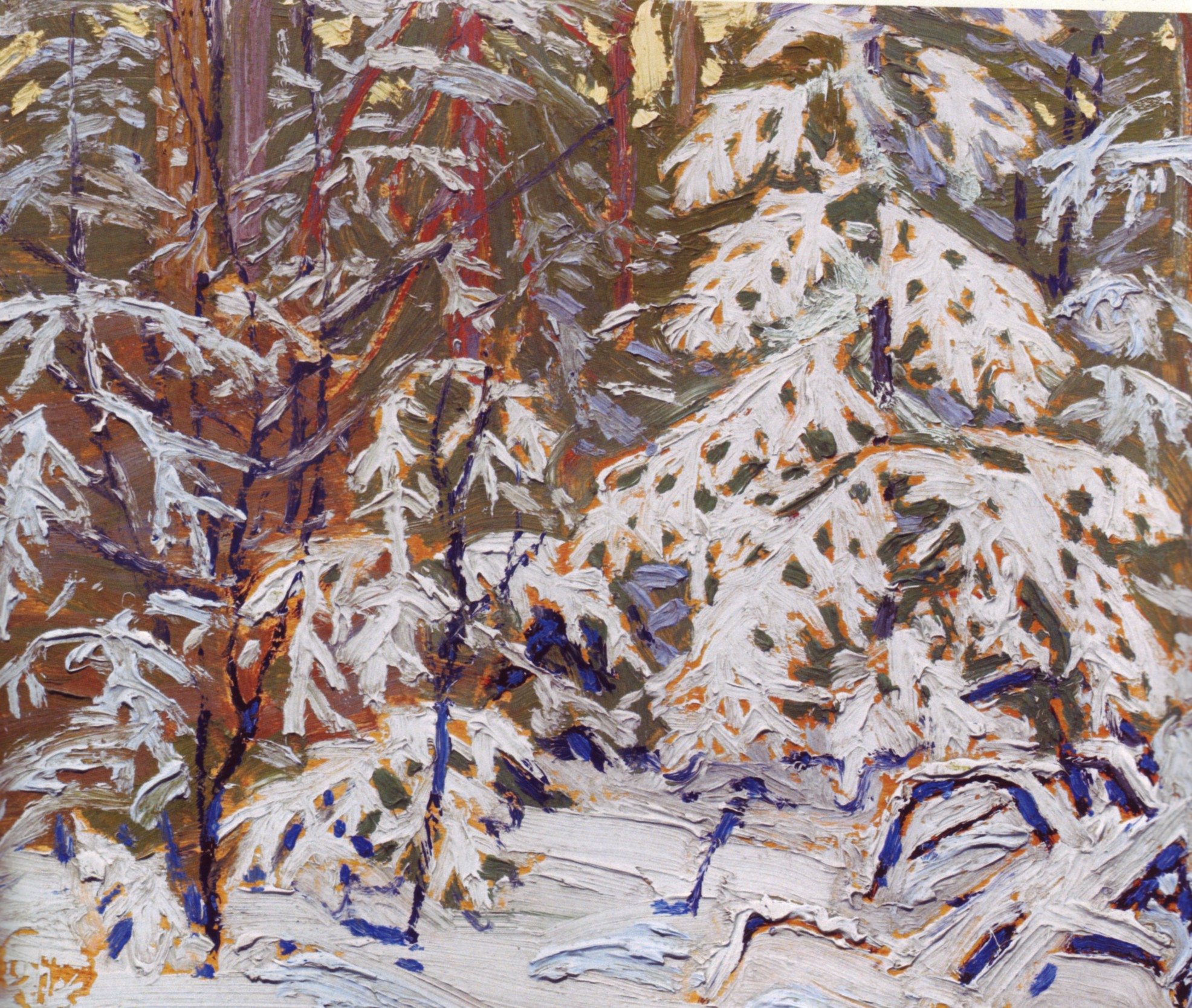 Toronto (18BP) – A sale with broad market appeal, Joyner's November 24th auction of Canadian Art turned in some excellent results, producing a single-session total of $4.55 million, with 26% bought in. Prices were strong throughout, testing or exceeding estimate in many cases, with, as expected, the blue-chip tag-team of Harris and Thomson taking the sale's top honours. It was Thomson who ended up with the best price of the sale, a bid of $973,500 for Winter Morning, an 8.5" x 10.5" panel illustrated on the catalogue cover (and illustrated right) and painted in the spring of 1915. It was estimated at $800/1,000,000.
A powerful Lawren Harris sketch of Mountain, Consolation Lake, 12" x 15", exceeded its expectations - not surprisingly given the artist's spectacular performances of late – taking a bid of $708,000 against a $400/500,000 estimate. Picking up a similar price, albeit against a $600/800,000 estimate, was Franklin Carmichael's Mill Houses, West River. The 30" x 36" canvas was painted in 1934 and sold with a pencil sketch of the same title, drawn in 1930.
One of the first works in the sale to comfortably exceed its estimate was Yvonne Mckague Housser's Autumn, Lake Superior. The 10.5" x 13" panel, painted in 1929 was estimated at $5/7000 but had market appeal written all over it that took it to a very healthy $17,700. A.J. Casson's Hilltop, Cloche Mountains, a 24" x 30" canvas estimated at $30/40,000 did well with a bid of $77,880, while a rather unusual offering from the brush of John Little managed to comfortably top its estimate. View from the Alleyway, Montreal, showing a busy backyard view with full washing lines, sold for $29,500 against a $15/20,000 estimate. Also making light of its $12/15,000 estimate was Frederick Grant Banting's The Freddy Channel, Georgian Bay. Painted in 1929, the 8" x 10.5" panel sold for $24,780.
J.E.H. MacDonald's colourful sketch Near Mt. Odaray, Rocky Mts., painted in 1928 sold over its $40/60,000 estimate with a bid of $68,440, while A.Y. Jackson's sketch Winter, St. Tite des Caps, sold mid estimate for $59,000. And, proving yet again the point that snow sells pictures – at least in Canada – Doris Jean McCarthy's Barns, Haliburton, a 30" x 34" canvas from 1935 fetched a healthy $49,560 against a $25/30,000 estimate.
Other prices of note include a high estimate bid of $63,720 for Cornelius Krieghoff's Habitants with Sleigh, painted circa 1850, $23,600 for another unusual John Little image, this time showing an artist and his model taking a Coffee Break in the artist' studio, and $44,480 for William Kurelek's The Hay Knife, a 15.5" x 19.5" mixed media from 1976 estimated at $15/20,000.
There was little doubt that Frederick Loveroff's Frozen Lake, a 38" x 44" canvas from circa 1931 was going to exceed its $12/15,000 estimate. The expansive winter landscape had stacks of market appeal and quickly soared to an impressive bid – and new artist's record – of $59,000. Also doing better than expected was Jack Lorimer Gray's Fishing Dragger. The 24" x 36" canvas from 1961 estimated at $10/15,000 sold for $27,140.
Although there were a couple of Tom Thomson sketches that missed their mark, Sawmill, Algonquin Park, 7" x 10", was not among them. Painted circa 1908, it sold for a near high estimate of $76,700. Doing slightly better was Lawren Harris's House, Toronto, No XIV, a 10.5" x 14" panel from 1942 that fetched a mid estimate $80,240.