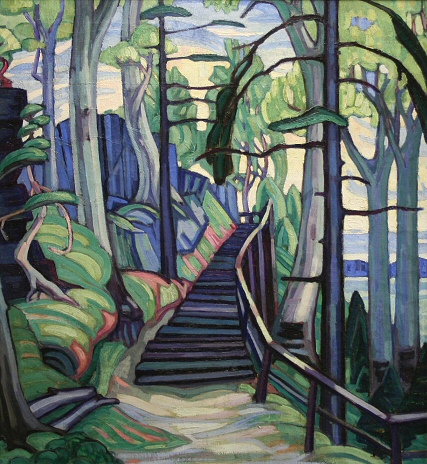 Ottawa (15BP) – In keeping with the current trend, Walkers offered a small session of modern and contemporary Canadian art separate from their regular session November 27th but it was the regular session that secured most of the evening's top prices in a sale that saw almost 83% of the lots finding buyers. In particular, two specific lots from the popular Beaver Hall Hill group, a mostly figurative school out of Montreal in the 1920s under the tutelage of William Brymner, attracted most of the attention. Forest Stairway (Cliff Path), a powerful non-figurative 26" x 24" canvas from Marian Dale Scott (1906-1993) secured the top price on the night with a bid of $97,750 against a $60/80,000 estimate (illustrated right). A larger work, but not as strong and enticing, although it did have plenty of snow, was Blue Ice, Lake Wonish by Anne Savage. The 35" x 40" canvas painted c.1935 carried a similar $60/80,000 estimate and also did well taking a bid of $92,000.
Sir Frederick Banting's Stream in the Rocky Mountains, 8.5" x 10.5" did extremely well taking a bid of $23,000, well above its $10/15,000 estimate. A.J. Casson's Storm Clouds, Conroy Marsh, a 12" x 15" oil on board fetched $16,100, just sneaking into its $15/20,000 estimate, while Peleg Franklin Brownell's First Communion, a 20" x 18" canvas from 1900 sold under its low mark with a bid if $8050.
Also of note in the main session of Canadian art was a bid of $2875 for Lemoine Fitzgerald's Three Apples and a Flower Pot, a 9" x 12" pastel from 1938 estimated at $2/3000. The same price was achieved by Thomas Hilton Garside's Loading Cordwood, a small 8" x 11" canvas estimated at $15/2500. Albert Cloutier's Horse Drawn Cab, Old Montreal, an 18" x 24" canvas from 1947 fetched a high estimate $4888 while Doris McCathy's Lakeside Pines at Twilight, a double-sided panel, 8.5" x 10.5", painted in 1932 fetched $5175, just under estimate.
Top price in the modern and contemporary session was reserved for a Max Bates canvas Northern Landscape, 36" x 48" painted in 1961. It sold for a high estimate $5750. In the same session John Reppen's Cityscape, a 24" x 48" oil and mixed media on board sold on its high estimate with a bid of $3565.
A session of Inuit and Indian works achieved one notable price. Norval Morrisseau's Ancestral Spirit a 70" x 52" acrylic on canvas from 1976 sold for $19,500 well above its $10/15,000 estimate.
The evening kicked off with another small session, this time of European art. Highlighting this section was a bid of $14,950 for Alfred de Breanski's Morning, Burnham Beeches. The 30" x 50" canvas was estimated at $15/20,000. Also of note was a bid of $4600 for Marc Chagall's Maternity with Centaur lithograph estimated at $5/7000.