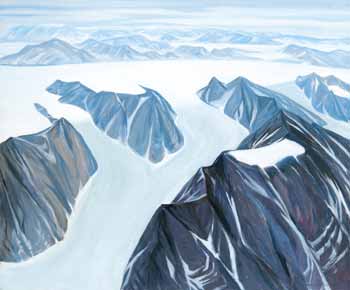 Calgary (17BP) – Levis Fine Art Auctions kicked off the fall season for the Canadian art market on Sunday, November 16th, with a solid performance that was closely watched by market observers in light of the current financial crisis. While there were no exceptional prices, there was no collapse either, as over 80% of the sale found buyers and close to $500,000 was realised. The top lot on the day was A.Y. Jackson's Tom Thomson Day, End of Wigwam Bridge Camp Ahmek, a 10.5" x 13.5" panel painted in 1964. Estimated at $30/40,000 it fell short of expectations with a bid of $26,325. Another Jackson showing a landscape East of Coppermine, picked up a bid of $18,135.
Doing better than expected was Doris Jean McCarthy's Above the Penny Ice Cap. Illustrated on the catalogue cover, this 30" x 36" canvas from 1981 sold for $25,740 against a $15/20,000 estimate (illustrated right). Two works from the brush of Ted Harrison did extremely well. Sunset Mountain, a 36" x 24" acrylic on board from 1981 fetched $15,210 against a $5/6000 estimate. A similar price and estimate was recorded for The Mountain Trail.
Finding a buyer at $11,700, just under estimate, was William McElcheran's The Determined Look, a 29.5" bronze sculpture from 1995. William Goodridge Robert's Brooding Landscape, 32" x 48" sold under estimate for $10,530, the same price realised for William Perehudoff's AC.99-8, a 44" x 44" acrylic on canvas from 1999 estimated at $9/12,000.
Other prices of note among the Canadian works include a bid of $4388 for Sybil Andrews' linocut Father Forgive Them, Station XI, produced in 1964. It was estimated at $2/2500. A similar estimate was put on the artist's In Manus Tuas Domini, Station XII, and it sold for $4025. Robert Genn's Western Watch, a 30" x 40" acrylic on canvas sold on its high estimate for $4095, while Roland Gissing's Mountains near Exshaw, 20" x 24", fetched $4680 against a $3/3500 estimate.
Illingworth Kerr's 24" x 30" canvas from 1981 of Qu'Appelle Valley at Craven, Sask. topped its estimate with a bid of $6435, while a similar titled and dated work, but measuring 22" x 30" was found more appealing taking a bid of $8775. Perhaps not unsurprisingly in light of the artist's local popularity, all 9 works in the sale found buyers.
Also of note was a bid of $4680 for a Joe Norris mixed media, 30" x 36" of an Autumn Harbour Scene, and $3803 for Jack Shadbolt's Craigdarroch, Victoria, B.C. a 12" x 15" pencil sketch from 1939. A bid of $3393 was taken for a small Dorothy Knowles canvas Reverie, painted in 1979, and $7020 and $4505 respectively was bid for two John Kasyn backyard views, the first Yellow Stucco on Sumack St., 18" x 14", and the other Entrance to the Back Yards, 8" x 14". St. Gilles' Village, l'eboulements, a 30" x 36" canvas fetched $4914 against a $25/3000 estimate.
A small session of international works included two works from the brush of British artist Frank Moss Bennett. The Game Seller, 20" x 15" from 1939 found a buyer within estimate at $12,870, while Mate in Two, 14" x 20", sold just under estimate with a bid of $11,700.