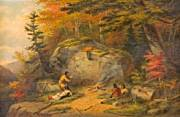 Toronto (20BP) – Bonhams Canada held their second sale in this country on December 2nd, with a small session of just 72 lots devoted entirely to Canadian art. The evening event realised a solid $543,000, with 68% of the lots selling (85% by value). These included several strong prices for works by Cornelius Krieghoff, A.Y. Jackson, Norval Morrisseau, Sybil Andrews, Peter Whyte, and Manly MacDonald.

A pair of Cornelius Krieghoff oils from a private collection in England attracted a great deal of interest particularly as they were so fresh to the market. Autumn in West Canada, Chippeway Indians, an oil on canvas acquired in the 1870s and descended within a British family's collection, and recently discovered in an attic, sold for $180,000 against a pre-sale estimate of $100,000/150,000 (illustrated right). Another work by the artist, Mountains below Quebec, North Shore, a circular oil signed and inscribed and depicting a horse-driven sleigh crossing a frozen creek sold for $78,000.

A bidding battle was inspired by a Sybil Andrews linocut from 1934, described by the auctioneers as "a superb and vibrant impression." Racing significantly numbered 1/60 sold strongly for $66,000. Also doing well was the artist's linocut of Steeplechasing which sold within estimate for $21,600. Picking up a similar price was The Gale, a linocut from 1930 and numbered 21/50.

A.Y. Jackson's winter scene Quebec Farm, an oil on board, sold for $54,000, comfortably above its $30/35,000estimate. Other works to do well include Peter Whyte's Summer in the Rockies which sold for $11,400. An untitled Norval Morrisseau work acquired directly from the artist sold for three times its estimate, bringing $7,500. Another by the same artist, this time an untitled image of a mythical beast, fetched $6600. Manly Edward MacDonald's Lonsdale Mill on the Salmon River brought $14,400 while an autumn lakeside view by the same artist picked up a bid of $6300.
Francesco Iacurto's Peche a L'Eperlan a Quebec, a 30" x 36" canvas from 1977 did well with a bid of $9300. A 44" x 68" acrylic, Painting #2 by Otto Rogers was another strong seller with a bid of $6300, while Henri Masson's Three White Monks found a buyer at $5700.
16 watercolour views painted on various battlefields by a Hanover, Ontario-born soldier fighting in World War One sold for $6,600. Reuben Alvin Jukes enlisted in 1914 and, according to family history, often painted scenes of his surroundings while deployed in battle. He was discharged from active service in the Army in 1919. Each of the works was signed and dated 1917 and 1918, the soldier's titles and comments inscribed on the mounts.