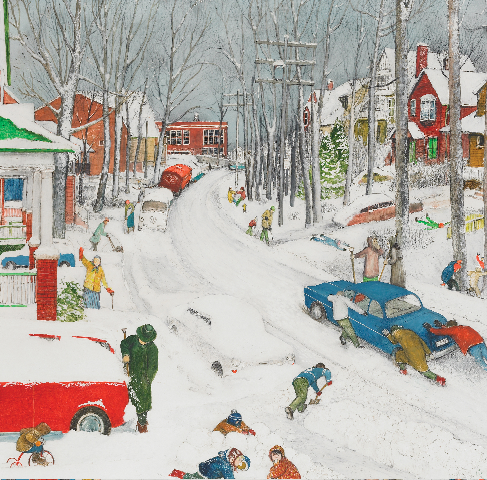 Toronto (15BP) – Being third of the big three Canadian auction houses to present its fall sale certainly didn't help Joyner Waddington's as they presented a two-session auction on November 25th and 26th. Over $20 million had already been taken out of the Canadian market by the other two salerooms over the preceding few days, and the national economic picture had certainly not improved any. As a result it probably wasn't as much a surprise as a disappointment when the company's final figure of $2.35 million was announced against a pre-auction estimate of $4/5 million. With 65% of the sale finding buyers the real damage came at the high end of the market with a few notable passes. A.Y. Jackson's impressive Echo Bay, Great Bear Lake went unsold, as did Tom Thomson's Fall Woods, Algonquin Park and Emily Carr's Yan, Q.C.I.
What is noticeable about this sale, however, is the fact that those pieces that did sell sold, for the most part, extremely well. Best among them was William Kurelek's exceptional Balsam Avenue after Heavy Snowfall. The 24" x 24" mixed media painted in 1972 carried a $175/200,000 estimate and sold at $241,500 (illustrated right). Lumberjacks Returning to Camp, another Kurelek mixed media found a buyer mid estimate for $57,500.
Although two Tom Thomsons in the sale failed to find buyers, one piece did sell. Rocks and Water, 6.5" x 10" sold within estimate for $115,000. A.J. Casson's Grey October Morning, a 30" x 36" canvas from 1953 topped its $50/70,000 estimate with a bid of $80,500, the same price realised for Jean-Paul Lemieux' Le Chandail Blanc, a 16" x 12" canvas estimated at $40/60,000. J.E. H. MacDonald's At Petite Riviere, N.S., an 8.5" x 10.5" oil on board painted in 1922 did very well when it found a buyer at $57,500 well above its $20/30,000 estimate.
Jack Bush's Yellow, Blue, White, Red, a 75.5" x 106" acrylic on canvas from 1972 sold around its mid estimate with a bid of $46,000, and Edwin Holgate's April Morin Heights, P.Q., a small panel from 1961, exceeded its high estimate with a bid of $34,500. Doing far better than expected was Samuel Borenstein's Country Road, Winter, an 11.5" x 16" panel from 1964. Estimated at $8/10,000 it sold confidently for $34,500. Also outperforming expectations was Frank Hans Johnston's Autumn Tapestry. The 10.5" x 13" oil on board was estimated at $5/7000 but ended up selling against active bidding for $21,850.
The work of Robert Bateman proved popular on the night. Window into Ontario, a winter landscape 48" x 96" and estimated at $15/20,000 sold for a solid $43,700, while Bird of Prey, 25" x 40" sold just under estimate for $27,600.
Other prices of note include a double-estimate bid of $13,800 for Frederick Haines's 12" x 14" panel North Country, La Cloche Mt., $10,350 for Paul Beaulieu's Ciel et Terre, a 13" x 20" watercolour estimated at $1/1500, a bid of $8050 for Marion Long's Woman Reading estimated at $3/5000 and $17,250 for a Dorothy Knowles canvas, 45" x 48" Near the Shelbrooke Road, July 22, 1981.