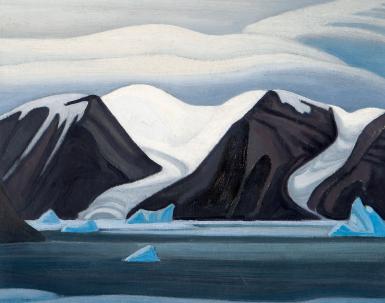 Toronto (20/15BP) – Hopes were running high before Sotheby's/Ritchies auction of Canadian art on November 24th. The company had put together a strong sale which included many important works, and they had seen the market stand relatively firm just a few days prior at Heffel's auction in Toronto. Unfortunately, despite a few exceptional results, by the end of the morning's sale the buy-in figure was around 34% and the final session total of $8.4 million was shy of the company's pre-sale estimate of $9.5/13.5 million. Although a number of the major works failed to find buyers, the most notable being Frederick Varley's Green and Gold, Portrait of Vera, Emily Carr's Skidigate and Jean-Paul Riopelle's Sans Titre, the majority of casualties in this sale were to be found at the lower end of the market and from the usually solid contemporary and post-war works.
Despite the obvious disappointment the saleroom was not unduly worried, and nor should they be for an $8.4 million sale is still very impressive and can still be viewed as one of their best totals to date. As company president, David Silcox, said, in a post-sale interview with the National Post, "We're very pleased with (the sale). It's better than where we were four or five years ago, so I can't complain. And, we put the sale together based on previous records during the summer, so what happened with the market between September and November wasn't taken into account - I think we were conservative, just not conservative enough."
Certainly the company was very conservative on at least one of their star lots, a 12" x 15" oil on board of Nerke, Greenland by Lawren Harris (illustrated right). Estimated at $300/500,000 it soared to a very impressive hammer price of $1.8 million ($2,072,500 with premium), setting a new record for a sketch by the artist. By contrast, Harris's Northern Painting 25, Northern Island II, a large 32" x 36" canvas painted in 1924, and carrying the auction's highest pre-sale estimate at $1/1.5 million, sold within estimate for a credible $1,066,250.
A strong price was recorded for J.E.H. MacDonald's Asters and Apples an 8" x 10" oil on board from 1916 that sold for $186,500 against a $100/150,000 estimate. Robert Pilot's Waiting for the Levis Ferry, an 18" x 24" canvas from 1927 did well selling above its $100/150,000 estimate with a bid of $175,000, while Arthur Lismer's Storm Clouds Passing, 9" x 12" was within estimate at $94,500.
Sotheby's pioneered the contemporary and post-war market for Canadian art and their sales have traditionally been strong in this department in recent years. This sale was no exception, although many more pieces than usual failed to find buyers. Definitely not among them was Blues #4, a 77" x 90" canvas from 1976 by Gershon Iskowitz. Estimated at $20/30,000 it shocked the saleroom with an outstanding bid of $186,500. Needless to say it was a new auction record for the artist.
Maurice Cullen's North River at St. Margaret's, a 24" x 32" canvas estimated at $200/300,000 just missed its high end with a bid of $290,000. Making light of its estimate, however, was Frederick Varley's Entering Pond Inlet, a 9" x 12" watercolour from 1938. Estimated at $15/25,000 it sold for a solid $129,000. Also doing well was Mabel May's Valley in the Snow. The 24"x 29" canvas sold for $111,750 against an $80/120,000 estimate.
Definitely a disappointment for this saleroom was the overall poor showing of works by David Milne. Usually a stronghold for works by the artist, only one of the five pieces offered found a buyer. But what a wonderful work it was. Woman with Suitcase, a 16" x 20" canvas painted circa 1912 in New York carried an estimate of $300/500,000 and didn't disappoint with a bid of $548,750.
Also not a disappointment was James Wilson Morrice's Charenton, a 24" x 36" canvas painted circa 1900. Showing a busy riverbank scene on the outskirts of Paris this piece fetched an impressive $750,000, comfortably above its $300/500,000 estimate.
Other prices of note include a bid of $57,000 for Stanley Cosgrove's The Two Sisters, a 46" x 38" oil on masonite estimated at $20/30,000, $48,000 for Sorel Etrog's Flight II, a 39" x 70" bronze sculpture estimated at $20/30,000, $221,000 for Emily Carr's Brittany Cottage estimated at $200/300,000 and $88,750 for Arthur Lismer's Georgian Bay, a 12" x 16" oil on board estimated at $50/70,000.