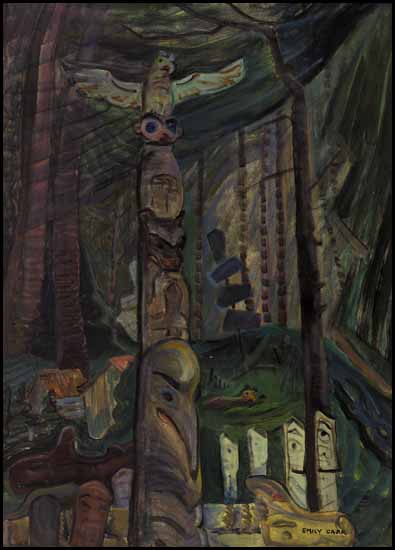 Toronto (17BP) – It was generally felt that the real test of how well the Canadian art market would fare in the current economic crisis would be found in the two-part auction from Heffel Fine Art in Toronto, November 19th. The salesroom had put together another intriguing sale, this time a two-session affair which included the inaugural sale of Canadian Post-War & Contemporary Art. The pre-sale expectation for the two sessions was $12/16million. When the final hammer fell the total for both sales was $12.5million.
The general consensus was that the market had held, and Canadian collectors and investors could breathe easily, at least for the time being. But was $12.5 million really that good for this company who have given us $22 million and $18 million sales in recent seasons? Certainly if this same sale were held six months earlier it would likely have posted $18/20million in sales. And certainly there wouldn't have been such high-profile casualties as four Lawren Harris paintings and three Tom Thomsons, which together accounted for more than $2million in lost sales and probably much more. So, in this light the market was off dramatically. However, the saleroom was smart and set its pre-sale estimates sensibly low which allowed it to achieve its target despite the disappointments.
Of course $12.5 million is still pretty darn good and still came in as the third highest grossing sale of Canadian art ever. Not bad at all. And, despite the failure of many of the top lots the saleroom once again managed to produce some excellent and surprising prices.
The sale opened mid-afternoon with a session of 89 lots of contemporary and post-war art, an area of the market that has traditionally fared poorly in weak economic climates. Not so on this day. (See separate report on this session).
Later the same evening the regular session of important Canadian art got underway with the familiar linocut images of Sybil Andrews leading off. This time, however, there weren't the same euphoric prices that we were treated to in the spring, despite there being some excellent images on offer. Top price among the ten pieces offered belonged to Theatre which sold for $40,950 against a $25/35,000 estimate.
Arthur Lismer's 18" x 20" Winter Landscape from 1917 was the first major lot up and it perhaps set the tone for what was to come in this session when it sold just under estimate for $117,000. Several other major pieces were to find it relatively tough going, and many were clearly saved by the company's adherence to low estimates which definitely paid dividends by the end of the evening.
One piece that didn't seem to present a problem was Emily Carr's Alert Bay Burial Ground, a 32" x 24" canvas that sold mid-estimate for $1,053,000 and posted the top price for this second session (illustrated right). Not far off the pace, and one of three Tom Thomson works to sell, was Autumn Tapestry, an 8.5" x 10.5" panel from 1915 that sold well above its $600/800,000 estimate when it found a buyer at $936,000. Thomson's Sunset, Canoe Lake, 5" x 7" also did well finding a buyer at a mid-estimate $702,000.
A.Y. Jackson's impressive Winter Afternoon, a 25" x 32" canvas painted in 1914 was another strong performer when it sold for $760,500 against a $600/800,000 estimate. This was a new record for the artist. Clarence Gagnon's Campo, Siena, a 29" x 36" canvas from 1911 did well when it sold for $351,000 against an estimate of $300/500,000.
The ever popular Beaver Hall Hill group of painters was well represented with works from Emily Coonan, Helen McNicoll, Mabel May and Nora Collyer. McNicoll's Girl with Parasol, 16" x 18", was the strongest of the four contributors, picking up a bid of $140,400 against a $100/150,000 estimate. Emily Coonan's Evelina, 26" x 18" painted circa 1910, did well with a bid of $46,800, while Mabel May's charming Old House, Baie St. Paul, 9" x 12.5" did better than expected with a bid of $49,725 against a $20/25,000 estimate.
Other prices of note include a bid of $35,100 for Sybil Andrews's linocut The Gale, $23,400 for a colour woodcut of Mamalilicoola, B.C. by W.J. Phillips, $163,800 for Tom Thomson's Northern Clouds, $198,900 for J.E.H. MacDonald's On Mongoose Lake, an 8.5" x 10.5" oil on board from 1920 estimated at $70/90,000, and $175,500 for Frederick Varley's 12" x 15" panel Forest Ranger's Cabin, Lynn Valley. Sir Frederick Grant Banting's Rooftops, Quebec City fetched a low estimate $76,050 while Emily Carr's Abandoned House near Metchosin, B.C., a 23.5" x 35" oil on paper fetched a low estimate $152,100.