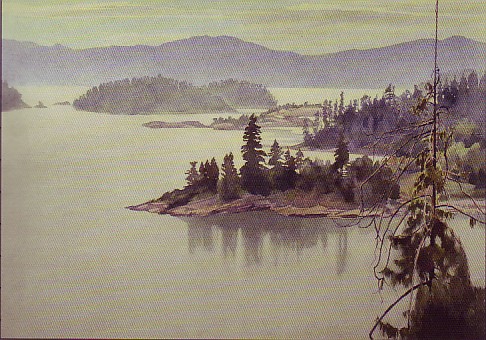 Calgary (15BP) – There were no block-buster prices, but that didn't stop Hodgins Art Auctions racking up a sale of around $700,000 June 2nd and 3rd, with an exceptional buy-in rate of about 10%. That means 90% of the almost 400 lots found buyers underlining the fact, yet again, that paintings remain very much in demand in Alberta. Securing the top price in this two session sale was W.J. Phillips' watercolour Overlooking the Bay, Georgia Strait (illustrated right). Estimated at $15/20,000 the 14.5" x 21" image painted in 1937 sold for an impressive $34,500.
It is probably no real surprise that a Phillips work took top spot given that there were 49 pieces by the artist in the sale, all of which found buyers, most above and even well above estimate. Picking up the second highest Phillips price was Arbutus Tree, a 16" x 17" watercolour from 1954 which found a buyer at $24,150, well above its $14/18,000 estimate. Other prices of note for Phillips followers include a bid of $11,500 for Bow Falls, Banff, a 10" x 15" watercolour estimated at $8/10,000 and $9775 for Sulphur Mountain, Banff, a similar sized and estimated work. Also doing well were The Batwing Sail, a 7" x 7.5" woodcut from 1925 that fetched $4945, well above its $2250/2750 expectations, and The Golden Hour, a 6.75" x 6.25" woodcut from 1918 that realised $5463 against an $18/2200 estimate.
Securing the second highest price in the overall sale was Arthur Lismer's McGregor Bay. The 13" x 15" panel from 1924 sold for $28,750 against a $20/30,000 estimate. Another artist whose work performed well in this sale was Alfred Laliberte. There were five bronzes by the artist offered four of which found buyers. The 1928 bust entitled Le Cultivateur, 16.75" sold on its low estimate for $12,650 the same price realised for Le Vieux, La Vieille, 16" x 18.5" cast in1928-1932 and estimated at $10/15,000. La Frequentation, 14" x 18" also squeaked into its estimate range with a bid of $10,350.
The ever-popular Allen Sapp saw his Driving the Load Home, a 24" x 36" acrylic on canvas from 1972 top its $5/7000 estimate with a bid of $8625, while Roland Gissing's Fall on the Elbow, a 24" x 30" canvas from 1932 surpassed its mark with a bid of $9775. H.G. Glyde's Pender Island, B.C., a 13" x 16" oil on board form 1961 also did well finding a buyer at $6038, well above its $3/4000 estimate.
Other Canadian prices of note include a low estimate bid of $10,350 for Marc-Aurele de Foy Suzor-Cote's bronze Bacchante, 9.5" from 1924, $7475 for Skiers, a 12" x 16" mixed media by Maud Lewis estimated at $5/7000, $5175 for a Marmaduke Matthews canvas, 18" x 24" of The National Park, Banff, 1892, and $4888 for a Horace Champagne pastel, 17" x 25.5" of A Crisp October Morning, estimated at $3/3500.
Among a small selection of international works spread throughout the sale two lots in particular stand out. The Man with the Golden Helmet, a 27" x 20" canvas after Rembrandt from notorious Dutch forger Hans van Meegeren was painted in 1945 and carried a $500/700 estimate. However, either because of the artist's notoriety or perhaps a collector who thought he may have found the real thing, the painting took off and eventually sold for $6900. Even more impressive was a 19th century British School portrait of Peter the Great, Tsar of Russia. The impressive 34.5" x 28.5" canvas carried a $750/1000 estimate but definitely tweaked the interest of the market, ending up with a final bid of $13,225.