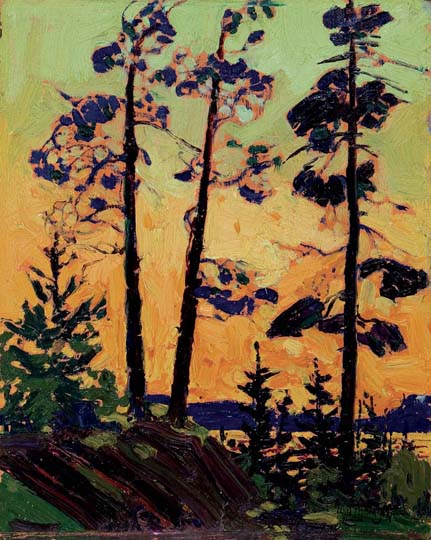 Toronto (20/15BP) – Posting the highest individual price for a painting in the spring season for Canadian art and enjoying a very modest 12% buy-in rate, Sotheby's in association with Ritchies produced an exceptional $10.838 million sale May 26 that served notice to market front runner Heffel Fine Art Auction House that dominance in the Canadian art market is still very much up for grabs.
In a sale that saw little of significance failing to find a buyer, and with prices for the most part comfortably above estimate, Sotheby's/Ritchies were naturally enough confident that their star lot, a superb sketch of Pine Trees at Sunset by Tom Thomson (illustrated right), would not falter despite an aggressive presale estimate of $900,000/1,100,000. Their faith in this exciting panel, painted circa 1915-1916, was not misplaced as determined bidding took it to an astonishing hammer price of $1.7 million ($1,957,500 with premium) a new record for the artist.
Posting the third highest price of the sale was Emily Carr's Cape Mudge, a 27" x 12" totem canvas that was estimated at $400/600,000. It found a buyer at $635,000. Doing slightly better at $692,500 was a Lawren Harris sketch, 12" x 15" of North Shore, Lake Superior that was expected to sell in the $300/500,000 range.
The sale got off to a good start with a still life of Pears and Lemons by Bertram Brooker doubling its estimate with a bid of $45,000, while John Young Johnstone's Beach at Ostend, 5" x 7", fetched a very impressive $30,000 against an $8/12,000 estimate.
Arthur Lismer's Pine Island, Georgian Bay, a 9" x 12" panel from 1926 made short work of its $80/100,000 estimate, finding a buyer at a very healthy $318,750. Fellow Group member Franklin Carmichael's La Cloche Hills, a 10" x 12" panel estimated at $250/350,000 sold mid-estimate with a bid of $290,000, and a Suzor-Cote bas relief bronze entitled Le Halage du Bois from 1924 did well when it sold for $152,000 well above its $75/100,000 estimate.
Homme, a small 18" x 15" canvas from 1965 by Jean-Paul Riopelle impressed when it sold for $77,250 against a $25/35,000 estimate, as did Marcelle Ferron's Peinture, a 20" x 10" canvas estimated at $20/30,000 but finding a buyer at $51,000. Alfred Pellan's L'Heure Rapace, a 48" x 33" canvas from 1955 sold towards the high end of its estimate with a $117,500 bid, while Jean-Philippe Dallaire's Le Quatorze Juillet, a 9.5" x 10" oil on paper from 1961 did well when it fetched a solid $36,000 against a $7/10,000 estimate. Even more impressive was Dallaire's Bossue a l'Ombrelle a 46"x 35" canvas estimated at $75/100,000. It sold for $267,000.
Two works in the sale that were destined to set new auction records did not disappoint. First up was Bertram (B.C.) Binning's Black Reflection a spectacular 26" x 35" abstract from 1960 that was estimated at $30/40,000. It sold for $117,500 breaking the previous record that had been set just a few nights earlier in Vancouver. A couple of lots later it was Ivan Eyre's turn. Long Umber Rough, a 68" x 143" acrylic on canvas carried a $60/80,000 estimate, and just reaching estimate would have comfortably set a new auction record for the artist. But comfort wasn't in the minds of two determined bidders who took this impressive, expansive landscape to an outstanding $255,500.
Staying with the modern works, another B.C. Binning also performed extremely well when Theme Painting, a 28.5" x 50" canvas from 1953 sold for $77,250, well above its $15/20,000 estimate, while the work of Jean McEwen continues to impress. Les Cages d'Iles No. 9, a 70" x 90" canvas from 1974 sold for a high estimate $71,500.
One can only assume that the purchaser of Mabel May's 12" x 16" Laurentian Landscape is feeling rather pleased with themselves after they acquired the charming village landscape for $30,000 against a $10/15,000 estimate. A few nights earlier a larger but not altogether dissimilar piece had sold in Vancouver for $218,500. And you can be sure the consignor of Maurice Cullen's Commandant's Point, Lac Tremblant, a 24" x 32" canvas from 1922 is also pleased with themselves. Estimated at $100/125,000 it found a buyer at $359,000.
Proving once again that snow and sleighs and a dash of red are all it takes to empty the Canadian pocket book, Frederick Hutchison's Red Sleigh, 12" x 16" sold strongly at $45,000 against a realistic $9/12,000 estimate. Emily Carr's The Bay, a 22" x 34.5" oil on paper laid on plywood doubled its expectations with a bid of $462,500, while Kathleen Moir Morris' Market Women, 10" x 14", fetched $140,500 against a $40/60,000 estimate. Performing even better was Waiting, a typical Morris scene of horses and sleighs outside a church. Estimated at $175/275,000 the 24" x 30" canvas fetched 405,000.
Other prices of note include a bid of $57,000 for Doris McCarthy's Home, 78" x 48", $111,750 for Ronald Bloore's Untitled abstract, 48" x 96", estimated at $20/30,000, setting a new record for the artist, $307,250 for Marc Fortin's Village Street with Elm Tree, 40" x 35" estimated at $150/250,000 and $45,000 each for two small oils by John Young Johnstone. Montreal Harbour and At the Foot of McGill were each estimated at $7/10,000.