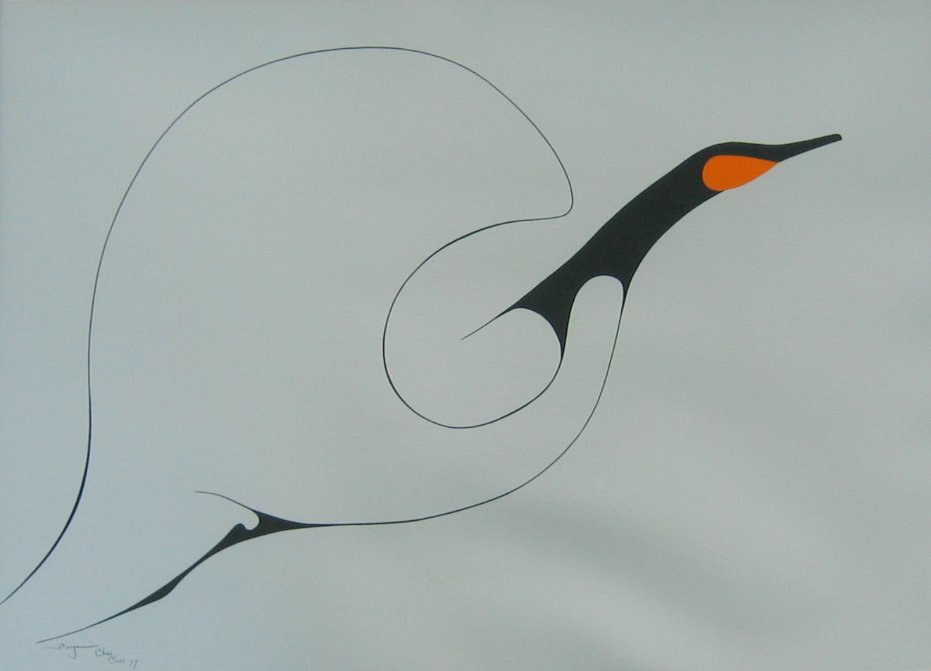 Vancouver (15BP) - Westbridge Fine Art Auction House held its first live sale of the year on March 16 and earned some commendable prices for a good selection of Canadian and international works. The top prices in the sale went to international pieces with a set of 36 Great Northern Railway calendars covering the years 1930-32 and featuring artwork by American Winold Reiss selling for $5750, the same price realised for a 16th/17th century Northern Italian school oil on cradled panel of a military tournament estimated at $3/4000.
An 18th/19th century European school painting of a town in a landscape was a definite surprise for the saleroom picking up a bid of $4600, well above its $7/900 estimate. Also selling for $4600 was The Duck Pond a 12" x 18" oil on board by F.M. Bell-Smith. Another surprise for the saleroom was the $5175 paid for Benjamin Chee Chee's Goose in Flight, a 21" x 29" gouache from 1977 estimated at $15/2000 (illustrated upper right).
A bid of $3450 was taken for T. Mower Martin's Woman and Child in Woods, a 26" x 41" canvas estimated at $3/5000, while Geoff Rock's Sophie E., Queen Anne's Lace a 20" x 30" oil on board picked up a bid of $2070. Two works by Belgian artist Paul Leduc also did well. Feeding the Chickens, 17.5" x 26.5" found a buyer at $2875 while Horse and Cart beside Industrial Canal, 24" x 31.5" picked up a bid of $3600.
A small 12" x 14" panel of a Boy Feeding a Goat by Australian artist Arthur Murch sold on estimate with a $2300 bid, and Polish Wedding from Wladyslaw Chmielinksi sold on estimate with a bid of $3900. A good price was also realised for a large canvas by Edmund Wimperis. Home from the Harvest, 30" x 40" from 1900 sold for a low estimate $4025.
Also doing well was a Charles Watson canvas of Sheep in a Scottish Landscape that fetched a mid estimate $2588. Aubrey Hunt's In the Spring, a 21" x 16" canvas sold for $2300 while a large 43.5" x 34.5" canvas of Maltese Goats by British artist Agnes Cadell did well with a $2875 bid against a $25/3500 estimate.
Westbridge's next live auction is scheduled for June 15 and while consignments are still coming in there is already a great deal of interest being shown in a rare and mint copy of Sybil Andrews' impressive linocut of Sledgehammers. Records show that there have only been about five copies of this image on the auction market in the past 25 years.