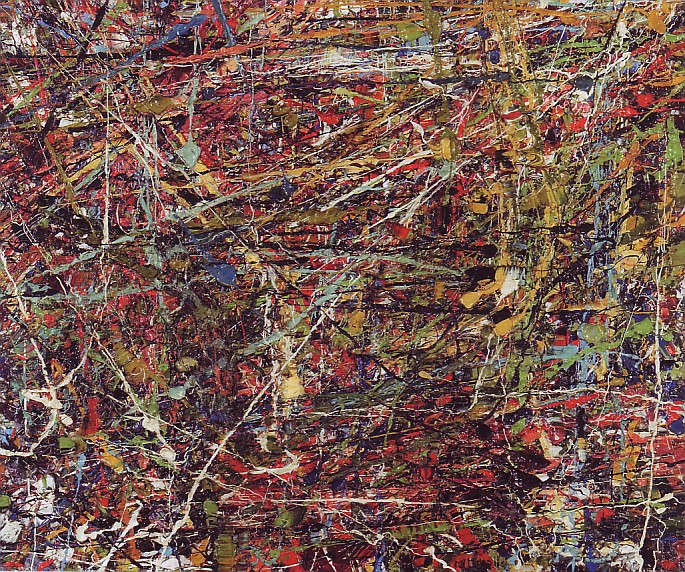 Toronto (20/15 BP) – Sotheby's celebrated 30 years in Canada with a spectacular sale that was certainly befitting the occasion. The 227 lot session held on Monday, May 28 at 10:30am in association with Ritchies, generated an outstanding $12 million with just 15% of the lots bought in. This was the company's most successful sale in its 30 year history. In total there were 27 lots that sold for more than $100,000 and four of these fetched over $500,000. The top lot of the sale at $750,000 was Jean-Paul Riopelle's Sans titre, a 21" x 25.5" canvas from 1951 estimated at $500/700,000 (illustrated right).
Not surprisingly, the work of Lawren Harris figured prominently among the top selling lots. Finding a buyer at $548,750 was a transitional work between the artist's representational and abstract periods. Abstract Painting, 47"x60", was painted c. 1930-31 and shows rays of light emanating from arctic forms. The estimate was $300/500,000. A more traditional work by the artist, Mountain Sketch XXI, a 12" x 15" oil on panel from the 1920s took a mid-estimate bid of $531,500, while Paul-Emile Borduas' Composition, a 30" x 35" from 1956 set a new record for the artist when it sold for $450,000 ($520,000 with premium) against a $200/300,000 estimate. Borduas' Pierres Angulaires, a 35" x 46" later work also did well selling on its high estimate for $405,000.
The sale got off to an exceptional start with the first lot, a 63.5" x 51" canvas by Marcelle Ferron, a late comer to the Automatiste movement, selling for a new artist's record of $180,000 ($209,500 with premium). Les Barrens was estimated at $40/60,000. Arthur Lismer's Northern Tapestry, 18.5" x 21.25" sold for $255,500, well above its $70/90,000 estimate, while Paterson Ewen's Rain on Coastline, a 48" x 71.75" acrylic on wood from 1977 set a new record for the artist at $170,000 ($198,000 with premium). Also setting a record was Robert Pilot's Cab Stand Lower Town, Quebec. The 15" x 18" canvas, painted in 1924, sold for a premium included $324,500, well above its $75/100,000 estimate.
The sale suffered several big-ticket disappointments which would undoubtedly have pushed the total up considerably had they been successful. The most significant was Jean-Paul Riopelle's La Foret Ardente, a 76.5" x 90.5" canvas from 1955 that carried an estimate of $2/2.5 million, the most expensive estimate of the spring season. A Harris and Kathleen Moir Morris, each estimated at $200/300,000 also had to be bought in.
Other prices of note include a bid of $209,500 for J.E.H. MacDonald's 1924 sketch of Lake McArthur estimated at $70/100,000, $485,500 for Frederick Varley's Rain Squall, Georgian Bay, 8.5" x 10.5" estimated at $80/100,000, $462,500 for Jean-Paul Lemieux's Recontre,15" x 24.5" estimated at $100/150,000, and $318,750 for the artist's Les Disciples d'Emmaus, 40" x 29.5", that was expected to sell for $100/150,000.
A.J. Casson's Aftermath, 30"x 36" more than doubled its high estimate with a bid of $221,000, and David Milne's Two Cedars, Boston Corners, an 18" x 22" canvas from 1919 set a new record for the artist when it found a buyer at a premium-inclusive $462,500. The saleroom also finally got to sell Paul Peel's Orchestra Chairs a large 56" x 81" canvas from 1892 of children sitting on a gate in a field. The painting had been withdrawn from auction several years ago. It sold within estimate for $347,500.
Christopher Pratt's 42"x 48" canvas of A Room at St. Vincent's set a new record for the artist when it sold for $110,000 ($129,000 with premium), William Kurelek's Manitoba Mountain, a 48" x 48" mixed media from 1971 soared to an impressive $336,000 against a $70/100,000 estimate, and Marc-Aurele de Foy Suzor-Cote's La Douleur, a powerful nude portrait from 1915, found a buyer at $301,500 well above its $120/150,000 estimate.
All in all a very satisfactory celebratory sale.